Registration for this event has passed
Come and get your monthly bookkeeping done!
We know, bookkeeping is the last thing you want to deal with. But, your monthly bookkeeping is essential for understanding what is happening in your business, for applying for funding, and for making future decisions on the growth of your company. So don't ignore your books until it's time to do your taxes -- use all that awesome data to its full potential!
Register now to join Tandem's Monthly Bookkeeping for Startups Walk-in
These sessions are for you if:
You are an incorporated company

You are planning on growing and seeking investment

You need some guidance on how to bookkeep more effectively and efficiently
Every month, we will guide you through your monthly bookkeeping steps to make sure your bookkeeping is done properly and quickly, so you can focus on the rest of your business.
We will help you with:
Getting your accounting system set up and working for you - whether it be on QBO, Xero, QBD, Wave, Excel.

Invoicing clients and receiving payments

Monthly bank, credit card and merchant account reconciliations

Payroll

Monthly, quarterly, and annual reporting

Any other questions you may have

GST returns

Conversing with CRA
Each session will be guided by a Tandem CFO and will have Tandem Bookkeepers onsite to help you get your #!@$ together.
Bookkeeping sessions are offered once a month on Wednesdays from 12:30pm to 1:30pm at SFU Venture Labs (Galiano Room).
Pricing
First Time Ticket, 50% off - $12.50

Drop-in Ticket - $25

5-session package - $99
Need More?
For one-on-one help, additional 1.5 hr tutorials outside of Walk-in hrs can be scheduled for $250. Registration for this is done separately.
To get you past the finish line, our bookkeepers are also available to help you catch up:
Catchup Packages* start at Small $500 / Medium $750 / Enterprise $1500
*The above rates are a retainer fees and are an estimation. Upon review your accounting file, we will be able to quote a more accurate one time or ongoing monthly fee.
Contact us at team@tandemIG.com if you have any questions!
Please sign up to reserve your spot and help us provide a good experience.
Seats are limited (10), first come first served.
https://www.eventbrite.ca/e/bookkeeping-for-startups-monthly-walk-in-clinic-tickets-55037180689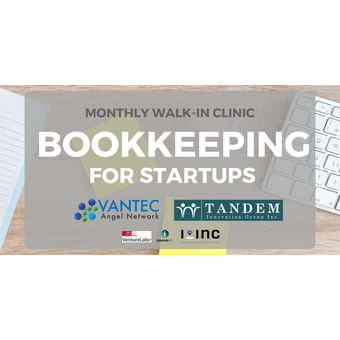 12t Floor Galliano Room 555 W Hastings St #1200, Vancouver, BC V6B 4N6, Canada