Register Now!
Or paste this link in your browser's address bar: https://www.eventbrite.ca/e/define-transformative-clean-technology-with-foresight-and-vantec-tickets-49582717242
DESCRIPTION
Foresight has expanded our mandate and is now accelerating transformative clean technology startups from launch to scale in Western Canada. Transformative clean technology is in all industries, and we have identified 12 industries to focus on including waste management, infrastructure, transportation, smart building, energy, robotics, advanced materials, manufacturing, mining, oil & gas, water, and forestry.
Foresight is proud to partner up with VANTEC Angel Network to discuss the definition of transformative clean technology and its impact. We are creating an opportunity to increase the awareness of transformative clean technology and a platform for companies to share their innovations with angel investors. Companies will have 5 minutes each to pitch their transformative clean technology to the panel of angel investors. From these discussions, a selection of companies will also be invited to join the VANTEC Angel Forum at the end of October.
Agenda:
5:30PM - 6:00PM Networking
6:00PM - 7:00PM Panel Discussion
7:00PM - 8:00PM Company Pitches to Angel Investors
8:00PM - 8:30PM Networking
Seats are limited, so please reserve your spot today!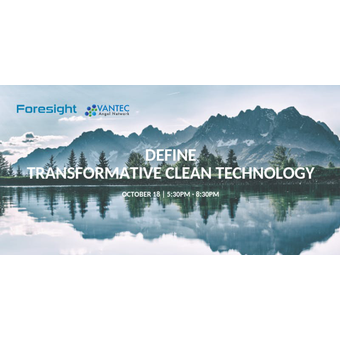 Foresight Office 2700 Production Way Unit 200 Burnaby, BC V5A 4V7