Registration for this event has passed
VANTEC has teamed up with Tandem and SFU Venture Labs to help entrepreneurs raising capital get their back-of-house investor ready. These monthly sessions will be led by Tandem Advisors that will guide each participant to be Deal Room ready.
This is event is for:
Entrepreneurs that have started their business, have a scalable business model and are looking to raise capital

Investors who have businesses they are watching and see potential in. Investors are encouraged to invite those entrepreneurs to the session
Wed Feb 13 2.45-5.00PM
SFU Venture Labs, 555 W Hastings St #1200
11th Floor Event Area (enter through 12th floor to be given access)
The Agenda for the Session:
2:45 Introductions
3:00 Presentation - Creating your Financial Model x Projections (Topic to change monthly)
Your revenues, your costs, your resources and how you are going to scale
3:30 One on One's AAA - Tandem & Vantec Advisors with Entrepreneurs
Your chance to "Ask Advisors Anything"
4:40 - 5:00 - Closing Discussion
Please note to qualify to attend you must be
1. an Entrepreneur that is looking to raise capital in the next 18 months and your must have been in business for more the 6 months and have active customers.
or
2. an Investor that is prescreening a potential company to invest in and would like to provide guidance to that company prior to the company actively fundraising.
Please sign up to reserve your spot and help us provide a good experience.
Seats are limited (10), first come first served. One person per company.
https://www.eventbrite.ca/e/tandem-x-vantec-monthly-financials-for-startups-tickets-52923927893
Use promo code: VANTEC for a free ticket.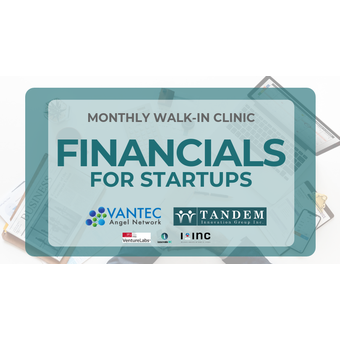 555 W Hastings St #1200, Vancouver, BC V6B 4N6, Canada