Event Details

Some HOT industry sectors are experiencing a pandemic surge: Digital Health, Edtech, Cybersecurity, IoT, Cloud Infrastructure and AR/VR Visualization. These industry sectors have seen increases in their revenue growth rates, valuations, investments and exits. This month's VANTEC meeting goes behind the headlines to focus on the companies that have leveraged digitalization to create business models that not only survive but thrive!
NEW - Investor members and registered attendees can now more easily access pitch decks, GUST profiles and post event recordings on their desktop or phone via our new content sharing platform. We welcome your feedback and questions at info@vantec.ca
A G E N D A
Registration & Networking 2:30 pm
Breakout Rooms for Networking
Presentation: Investment Trends 3:00-3:20 pm
Presenters:
Geoffrey Hansen Senior Partner at Garibaldi Capital Advisors | geoff@garibaldicapital.com
Rich Osborn Managing Partner at TELUS Ventures | Rich.Osborn@telus.com
Roundtable Discussion 3:20-4:10 pm
Moderator: Geoffrey Hansen Senior Partner at Garibaldi Capital Advisors | geoff@garibaldicapital.com
Panelists:
5 Minute Break
Welcome and Community Announcements 4:15 pm
Community partners are invited to announce their upcoming events to the investors in the room and subscribers to our newsletter. Simply email us at info@vantec.ca.
Charismotive Supports Vancouver Tech Companies
Contact: Hossein Kamali | projects@charismotive.com | 778-707-6532
Ready to Rocket Call for 2021 Nominations
Contact: Dave Thomas | dthomas@rocketbuilders.com | 604-603-8630
INVESTOR EVENTS
COMMUNITY EVENTS
Company Presentations 4:30 pm
Companies can apply to pitch here and are recommended to attend one or more of the pitch circuit events to practice their pitch. The presenting companies will be announced 2 weeks prior to the meeting.
UPDATES
PREVIEWS
FULL PRESENTATIONS
Reception & Networking 5:45-6:15 pm
Dedicated Breakout Rooms for Full Presenters and Investor/Founder Networking
Investor Decks
The company presentations and investor packages, including more details on the team, financials and other documents are available to VANTEC members on the Gust platform. Email us at info@vantec.ca if you have any questions.
NOTE: In our effort to share the pitches and presentations beyond our venue for a bigger impact we will record some of our events and make them available online.
By attending this event, you consent to the use of photography/video/audio in all forms of media, for any and all promotional purposes including advertising, display, audiovisual, exhibition or editorial use by VANTEC Angel Network without payment or other compensation.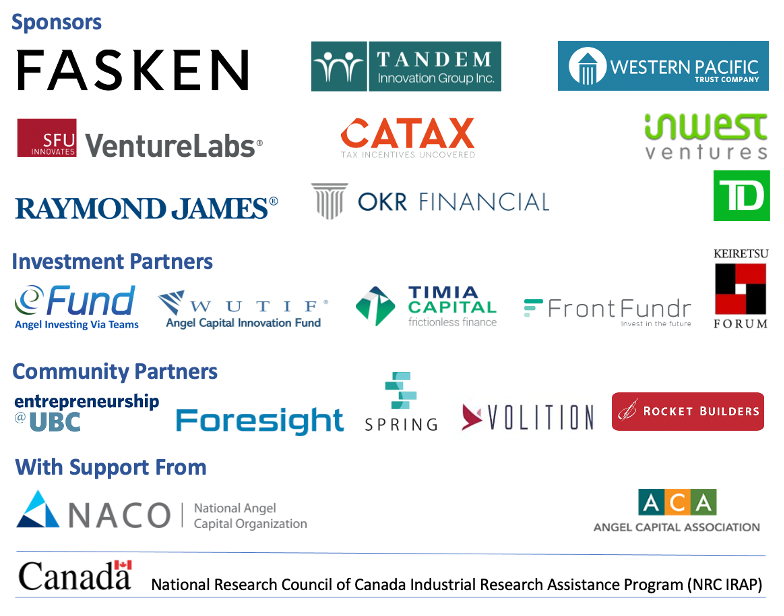 Apply to Pitch
We invite all digitalization companies seeking Seed or Series A investment to apply. Please express your interest by completing your application to pitch no later than January 18, 2021 at 11.59 PM.
Companies that apply and meet the criteria will benefit from the support and workshops that our community partners provide before and after the February 3, 2021 investor meeting.
Benefits
Get feedback and advise from investors and industry experts on your business, investor profile and presentation several weeks before the investor meeting.
Grow your connections, relationships with industry experts, peers and investors. Set up a deep dive conversations with aligned investors
Selected companies will be provided with the opportunity to share their story via pre and post event marketing content that will be created and shared by our partners.
Company pitches will be recorded on video for viewing on demand and are made available to you to share with your investors.
We will share the videos of the pitches and investor packages with our investors and affiliated angel groups.
Application Criteria
You are seeking an equity investment from angel investors and you are on your way to meet these criteria.
You are a BC-based company from the following sectors: Digital health, Edtech, Cybersecurity, IoT, Cloud Infrastructure and AR/VR Visualization. Companies from other provinces are welcome to apply, and we will introduce you to our partners, however for this investor meeting BC companies are preferred.
Innovation & Impact: Concept is a transformative / game-changing approach to solving a problem or gap in the market that can have major impact at scale.
Product / Technology: Product or service has a competitive advantage and barriers to entry.
Customers / Traction: Validated customer needs and wants. Researched competition and substitutes. Understand key growth metrics. Steady progress in building a successful business.
Business Model / Scalability: Clear business model. Know how to scale, access markets and acquire customers. Know costs and how margins improve with scale. High growth profitable market opportunity, preferably with global impact at scale.
Sustainability / Social Good: Business has a triple bottom line: people, profit and planet.
Team: Well rounded team of founders, staff and advisors.
Exit: Path to a high value exit

Our Process
January 15, 2021 - Is the final deadline to submit your application. We ask you to complete a secure online investor profile on GUST. An investor panel selects the companies.
January 19, 2021 - If you're selected for the online pre-screening you will give a 5 minute presentation, answer questions and receive feedback on your business and presentation from a panel of experienced investors and domain experts. This will take about 20 minutes.
February 1, 2021 - We will announce the final selection of companies.
February 3, 2021 - At the investor meeting you will present to an audience of angel investors, family offices, funds and community partners.
The meeting starts at 2 pm with industry trends and Roundtable discussion. Company presentations to investors are from 4.00 - 5.30.
We recommend companies schedule time for investor deep dive meeting after the investor meeting.
NOTE: If you aren't selected to present, we will consider your application for upcoming investor meetings held monthly on the first Wednesday of the month.
Selection Committee
The selection committee includes:
Nina Vellani - Life/Health Sciences Angel Investor, Founder of 4 angel investment funds
Frank Leffelaar - Agrifood Tech Angel Investor & Advisor, Deal Lead Agrifood at VANTEC and eFund, EiR at Foresight Accelerator
Ramneet Sran - Trade Commissioner - Venture Capital, Adv. Manufacturing & Robotics at Global Affairs Canada
Erik Kaas - Industry Technology Advisor at NRC-IRAP