Event Details
Investment opportunities that support the transition to a cleaner economy
At this clean tech and climate tech themed investor meeting we bring together investors, founders and other community stakeholders to meet and support BC-based ventures.
Our mission at VANTEC is to help grow the angel investing community, grow angel investments in BC-based ventures, and support angel investors in making more and better investments. We are therefore hosting this special monthly VANTEC meeting to:
Get an up-to-date perspective on cleantech investment trends and opportunities
Have a roundtable discussion with cleantech investors
Meet early-stage ventures with solutions to solve some of the biggest challenges
Meet early-stage investors with an interest in sustainability, cleantech and circularity
Apply to Pitch
Companies can apply to pitch here before March 15. We invite investors to nominate companies at info@vantec.ca. Selected companies will be invited for a prescreening on March 22 or March 24. The presenting companies will be announced after the prescreening.

A G E N D A
2:30pm Registration & Networking
In-person networking and random networking on zoom.
3:00pm Welcome & introductions
3:05pm Presentation
Opportunities in Cleantech & Climate Tech
Market Background, Business Models, Recent Trends in Investment and Acquisition, Tips for Investors
Geoffrey Hansen, Partner at Garibaldi Capital Advisors | geoff@garibaldicapital.com
3:15pm Expert Panel Discussion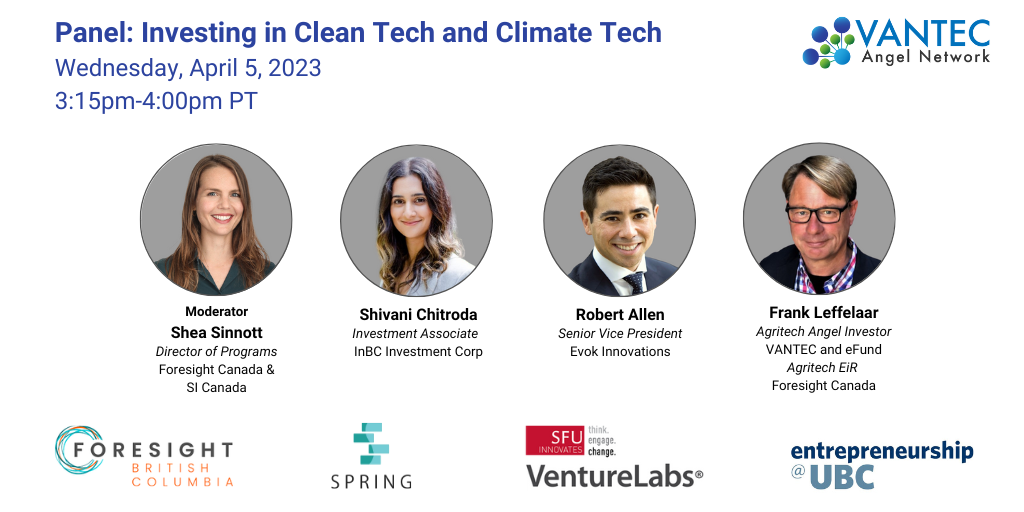 Moderated panel discussion with early-stage investors in Clean Tech and Climate Tech.
Shea Sinnott (Moderator) - Director of Programs at Foresight Canada & SI Canada
Shivani Chitroda - Investment Associate at InBC Investment Corp
Robert Allen - Senior Vice President at Evok Innovations
Frank Leffelaar - Agritech Angel Investor at VANTEC and eFund. Agritech EiR at Foresight
4:00pm Investor Meeting
Community Announcements
New Ventures BC Competition applications due April 11 | Rachel Burns | Program Director (online)
Foresight Canada Cleantech Accelerator | Shea Sinnott | Director of Programs (in person) |
SFU VentureLabs | Dave Thomas | EiR at VentureLabs (in person)
Spring Angels for Climate Solutions | Graham Day | graham@spring.is
e@UBC | Chang Han | chang.han@ubc.ca
Growing the VANTEC Community in 2023 | Roger Killen | community@vantec.ca
Wutif Capital | Michael Volker | mike@volker.org
e-Fund | Theazel Lee | info@e-fund.ca
Upcoming Investor Events
VANTEC: Cleantech & Climate Tech Meeting Wednesday, April 5
Keiretsu: Investor Capital Expo April Thursday, April 6
Angel Forum: 50th Investors Edition Thursday, April 20
Upcoming Community Events
Innovate BC: A Conversation with 2022's Top Startups Tuesday, April 4
TiE Vancouver Angels: Demo Day Thursday, April 13
VEF: BC's Human Health Ecosystem Tuesday, April 18
The Odlum Brown Forum: Pitch Finale Thursday, April 27
TechExit.io Tuesday, May 30
4:15pm Company Presentations
PREVIEWS (90 seconds)
Bryosphere | Biotech | BryoSphere is a Vancouver-based company developing a moss biodesign platform for the eco-friendly production of high-value, specialty chemicals
SenseNet | Cleantech | SenseNet is an environmental monitoring company with a focus on protecting remote and vulnerable assets with patented AI and IoT technology
Asset Market | Software | Airbnb for EV charging, digital and IoT infrastructure
UPDATES (90 seconds)
INHUB Farms | Agtech | We are growing a network of smart mushroom farms in every city.
FULL PRESENTATIONS (5 minutes)
Farment Biosolutions | Agtech | Farment developed a patented waste processing system addressing two critical challenges facing farmers: managing animal waste, and the high cost of fertilizer
ReFeed Canada | Agtech | Using biology, biotechnology, data science and circular supply chains to decarbonise food production, support food security and accelerate soil regeneration.
SkyAcres | Agtech | Alleviating food insecurity in food deserts using proprietary, cutting edge, low cost, low energy vertical farming systems.
Cellulotech | Clean Technology | Cellulotech has developed a breakthrough process to help the packaging industry make paper-based products at a low cost
NANOSentinel | Cleantech | NANOSentinel helps clean energy companies optimize their manufacturing controls, saving time & money with our Lab-in-a-Box for toxic metal testing
Lite-1 Microbial Dye | Cleantech | Lite-1 introduces the next generation of 100% sustainable colour generated from abundant microorganisms in nature that can safely return to nature
Talius | Construction | Talius is the Canadian leader in innovative and attractive roll shutters and solar screens for security and shading solutions.

5:30pm-6:30pm Meet the Companies and Founder & Investor Networking
Company Showcase
We will provide the companies with a table to meet with interested investors
In-person networking between investors, founders and community members while we serve complimentary beverages and appetizers.
Investor Decks


VANTEC members can access the company profiles and presentations on GUST and via one convenient link on Docsend via this page when logged in at vantec.ca (members only).
NOTE: In our effort to share the pitches and presentations beyond our venue for a bigger impact we record our events and make them available online to our investor members.
By attending this event, you consent to the use of photography/video/audio in all forms of media, for any and all promotional purposes including advertising, display, audiovisual, exhibition or editorial use by VANTEC Angel Network without payment or other compensation.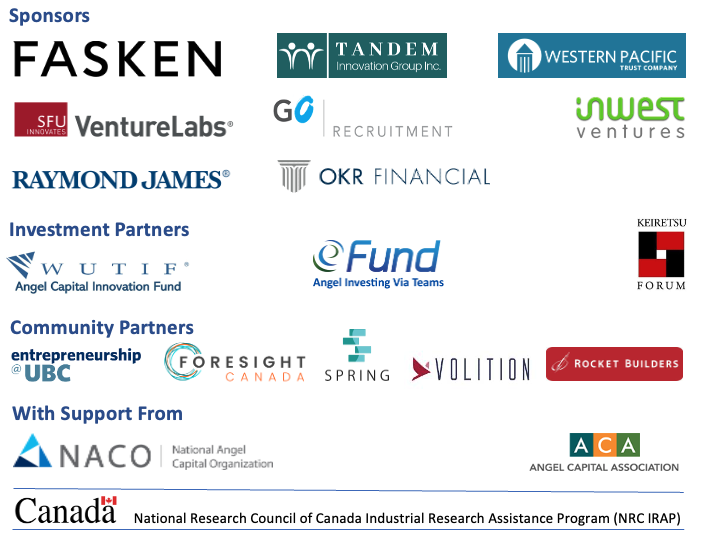 Geoff Hansen is a seasoned tech entrepreneur with multiple successful exits in communications, e-commerce, mobility and biotech. After years as a venture capitalist, spent 15 years as a growth advisor to hundreds of technology companies. Also an active angel investor and an analyst behind BC's Ready to Rocket list. Garibaldi is Canada's leading tech-focused investment bank helping tech companies with capital raising and exit transactions.
Shea Sinnott is a facilitator and program designer with over a decade of experience in social innovation and environmental advocacy. Shea currently works with Social Innovation Canada and Foresight Canada as Director of Programs on Accelerate from Anywhere – a joint initiative focused on strengthening the cleantech ecosystem across Canada and supporting early-stage entrepreneurs developing technology to address the climate and water challenges.
Motivated by the climate crisis and committed to a just transition, Shea has held myriad roles and run successful programs with the Centre for Social Innovation (leading Climate Ventures and Earth Tech), Code for Canada, the David Suzuki Foundation, Next Up, and OpenMedia. She holds a Master's in Adult Education & Community Development from the University of Toronto and is based on the unceded Coast Salish Territories in Vancouver, B.C.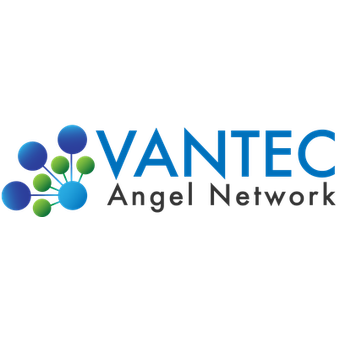 SFU ventureLabs, 555 W Hastings St Suite #1100, Vancouver, BC & ONLINE