Event Details

Investing in Transformative Agrifood Tech

Meet Western Canada's most promising Agtech, Foodtech and Biotech Seed and Scale-up Companies
There has never been a better time to invest in Agrifood Tech. New ways to grow, process and distribute cleaner, healthier and more nutritious foods at better yields. Innovation and industry transformation provide tremendous opportunities for investment at a global scale.
With this event, we want to introduce you to some of the most promising seed stage companies in Western Canada that have the potential to provide great returns for investors while contributing to the health and sustainability of our people and planet.
Together with accelerators, investors and other ecosystem partners, we selected and vetted Western Canada's most promising seed and scale-up companies from across the farm to fork value chain. We invite accredited investors, industry experts and stakeholders for an afternoon of investor panels, pitches and networking.
This event is hosted by VANTEC Angel Network in collaboration with Foresight, agriNEXT, sponsorship from Raymond James and support from the Government of Canada.
On October the 13th we hosted a webinar and panel discussion to start a conversation on Investing in Transformative Agrifood Tech to Address Climate Change. You can watch the recording here.


A G E N D A
Registration & Networking 2:30pm
Random networking between founders and investors.
3:00pm Welcome & introductions



WATCH PRESENTATION AND PANEL DISCUSSIONS (free access and free to share)
3:05pm Investment Trends In Agrifood Tech
Steve Hansen CFA, CMA; Managing Director, Equity Research Analyst at Raymond James shares trends, opportunities and examples why investing in Agtech and Foodtech is rapidly growing and rewarding.
Panel discussions
Speakers will discuss the importance of fostering partnerships and collaboration cross-country to support the commercialization and adoption of transformative agtech at scale in Canada and in global markets. How can collaboration within the agtech innovation ecosystem address the existing barriers to validating technology, developing a business model and go to market strategy, and attracting the funding to scale up to become a global player.
3:15pm Connecting & Collaborating in Canadian Agrifood Tech
Moderator: Jason Bradley, Manager Strategic Partnerships at Olds College
Tod Ormann, Director Agriculture Solutions at Telus
Kerry Wright, CEO at Canadian Agri-Food Automation & Intelligence Network
Karra-Lee Gerrits, VP Strategy & Business Development at Protein Industries Canada
3:40pm Raising Funding from Startup to Scale-up
Moderator: Steve Hansen, Managing Director, Equity Analyst at Raymond James
Eric Enno Tamm, CEO at This Fish
Michael Riedijk, CEO at Lucent Biosciences
Samuel Fournier, CEO at ChrysaLabs
4:00pm Investor Meeting
Community Announcements
Foresight Accelerator | Canada's core technology innovation centre. Where cleantech comes together.
Contact: Andrea Bravo | abravo@foresightcac.com | 705-725 2035
Impact United | A broad-based community and movement of investors seeking to mobilize capital towards social, economic and environmental justice
Contact: Richard Muller | richard.muller@svx.ca
Innovation Canada | Innovative business owner in Canada can connect with one of our Innovation Advisors, growth experts who can help you find—and take advantage of—all of the government programs and services at your disposal. Contact: Sandra Spencer | sandra.spencer2@ised-isde.gc.ca
E8 Angels | New $50 million Fund for Cleantech
Contact: Lars Johansson | larsj@energethicllc.com
UPCOMING INVESTOR EVENTS
Western Canada 5th Annual Agrifood Tech Investment Forum Wed, November 3
Keiretsu: West Coast Investor Capital Expo Wed-Thu, November 10-11
Angel Forum: Deal Structuring and Term Sheet Webinar Tues, November 30
VANTEC Start Up Visa (SUV) Pitch Perfect Previews Thu, November 4
VANTEC Meeting Wed, December 1
UPCOMING COMMUNITY EVENTS
Interface Health Summit - Life: Restart Wed-Thu, October 20-21
SFU Coast Capital Savings Venture Connection: Women Entrepreneurs & Leaders Community Meeting Tues, November 16
Volitions: Amplify Women's Pitch Wed, November 24
entrepreneurship@UBC: 2021 Venture Showcase Wed, November 24
Foresight: Cleantech Demo Day Tues, November 30
Foresight agriNEXT program - Apr 2022
4:15pm Company Presentations
UPDATES (90-second presentation)
Nutrienvisus | Agtech | We produce a sustainable & eco-friendly plant nutrient, but precision-formulated - it can promote healthy plant growth without harmful chemicals at all.
Nada | Food and Beverage | Nada is an omni-channel package-free grocery store & delivery service on a mission to connect people to just food by championing a community food system.
Scout Canning | Agrifood | Scout is a craft cannery and sustainable seafood brand modernizing seafood CPG in North America.
Verdi Ag | Agtech | Verdi is modernizing farm control systems to customize water and nutrient delivery for every plant.
BarrelWise Technologies Ltd. | Agtech | Giving winemakers the tools to better practice their art by facilitating precise and efficient management of the barrel ageing process.
PREVIEWS (90-second presentation)
Novus Earth | Agtech | NovusEarth is a novel approach that harnesses the earth's heat for aquaponics, delivering energy sovereignty and food security.
Synergia Biotech | Agtech | Synergia Biotech is a cleantech company that produces the world's first 'green' natural blue pigment.
Mycorize | Agrifood | We are Canada's first "Full Spectrum" nutraceutical mushroom production and processing facility.
Gentle Processing | Agtech | Nutrition the Way Nature Intended.
Vinterre | Software | Vinterre is a global B2B platform that enables and automates the interactions between wine producers, wine importers/distributors and trade wine buyers.
One Cup AI | Agtech | OneCup AI uses computer vision to identify, track and monitor livestock.
FULL PRESENTATIONS (5-minute presentation)
Susgrainable | Agrifood | Susgrainable is a circular economy food company producing upcycled barley flour from spent grain (beer "waste") improving nutrition & reducing food waste.
NeuPeak Robotics | Agtech | AI enabled autonomous robots addressing fruit harvesting challenges
Verigrain | Agtech | Providing more accurate, real-time grain quality and quantity information to help growers and buyers realize more revenue.
ThisFish Inc. | Agtech | World Leader in AI-Powered Seafood Traceability and Production Software.
Wine Crush | Agrifood | Winecrush upcycles wine making derivatives into high performance flavour enhancer.
Lucent Biosciences - Soileos | Agtech | Lucent has developed a new class of micronutrient fertilizers that is carbon-neutral, does not have run-off pollution while improving yield and crop quality.
5:30pm-6:00pm Founder & Investor Networking
General networking in the common room. Dedicated Q&A breakout rooms with full presentation founders, their investor sponsor and investors in 2 x 10-minute cycles, followed by 5-minute cycles of random founder & investor networking until the end of the VANTEC meeting.
Investor Decks
VANTEC members can access the company profiles and presentations on GUST and Slack and via this page when logged in at vantec.ca (members only).



PITCH VIDEOS and INVESTOR PACKAGES (VANTEC members only, must be logged in to view). Email us at info@vantec.ca if you have any questions.
NOTE: In our effort to share the pitches and presentations beyond our venue for a bigger impact we will record some of our events and make them available online to our investor members.
By attending this event, you consent to the use of photography/video/audio in all forms of media, for any and all promotional purposes including advertising, display, audiovisual, exhibition or editorial use by VANTEC Angel Network without payment or other compensation.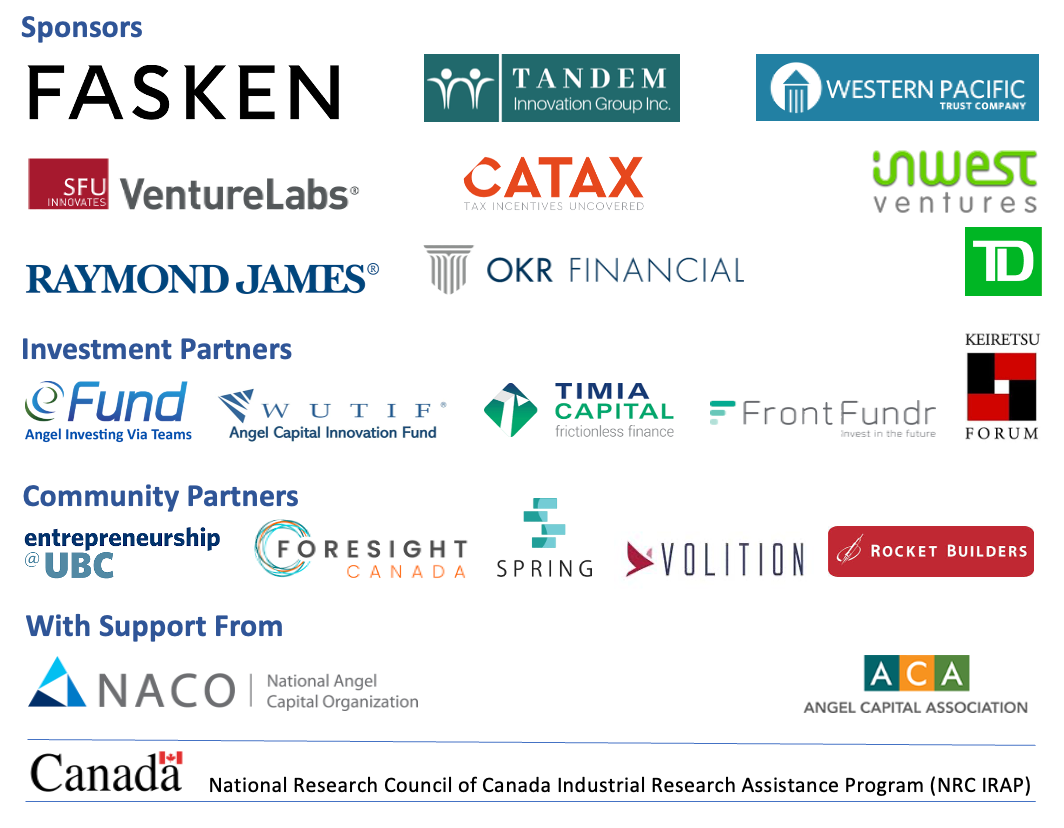 Apply to Pitch
We invite all Agtech, Foodtech and Biotech companies seeking seed or series A investment to apply. Please express your interest by completing your application to pitch no later than October 6.
Companies that apply and meet the criteria will benefit from the support and workshops that our community partners provide before and after the November 3 investor meeting.
Benefits
Connect with a Canada-wide community of investors with an interest in Agtech, Foodtech, AgBiotech, Cleantech, Sustainability and Circularity.
You will create and own an investor profile on our secure online GUST portal that you can securely share with investors.
Selected companies will be announced by VANTEC and Foresight and shared with ecosystem partners.
Companies selected for pre-screening will get questions and feedback on their presentation from a panel of investors and industry experts
On November 3rd you will present to investors from Western Canada, the Pacific Northwest and further afield.
On November 3rd we'll kick off the investor meeting with a presentation on the latest investment trends and two panel discussions with founders and investors.
Grow your connections, relationships with industry experts, peers and investors before and after the investor meeting with online networking and breakout rooms.
Company pitches will be recorded on video for viewing on demand and for you to share.
We will share the investor packages and pitches with our investors and affiliated angel groups in the Pacific Northwest and Western Canada.
You will also get access and benefit from our ecosystem partners including:
VANTEC - will invite angel groups from across Western Canada and The Pacific Northwest

Foresight Accelerator - companies selected for pre screening will have the opportunity to meet with a member of the selection committee to receive feedback on their environmental, social and corporate governance considerations to bolster their investment/growth strategy
Application Criteria
You are seeking an equity investment from angel investors and you are on your way to meet these criteria.
You are a BC or AB based company. Companies from other provinces are welcome to apply, and we will introduce you to our partners, however for this investor meeting BC and AB companies are preferred.
Innovation & Impact: Concept is a transformative / game-changing approach to solving a problem or gap in the market that can have major impact at scale.
Product / Technology: Product or service has a competitive advantage and barriers to entry.
Customers / Traction: Validated customer needs and wants. Researched competition and substitutes. Understand key growth metrics. Steady progress in building a successful business.
Business Model / Scalability: Clear business model. Know how to scale, access markets and acquire customers. Know costs and how margins improve with scale. High growth profitable market opportunity, preferably with global impact at scale.
Sustainability / Social Good: Business has a triple bottom line: people, profit and planet.
Team: Well rounded team of founders, staff and advisors.
Exit: Path to a high value exit

Your business is part of the Agrifood Lab to Farm to Fork Value Chain

Our Process
Oct 15 - Is the final deadline to submit your application. We ask you to complete a secure online investor profile on GUST. An investor and industry panel selects the companies.
Oct 21 and Oct 22 - If you're selected for the online pre-screening you will give a 5 minute presentation, answer questions and receive feedback on your business and presentation from a panel of experienced investors and domain experts. This will take about 20 minutes.
Companies will be offered the opportunity to join an online investment ready workshop TBA.
Oct 25 - We will announce the final selection of companies.
Nov 3 - At the investor meeting you will present to an audience of 150+ people including 60+ angel investors, family offices, funds and community partners. The meeting starts at 2:30 pm PST with networking, industry trends and investor panels. Investor presentations are from 4.00 - 5.30.
We recommend companies schedule time for 1:1 investor meetings with investors before or after the investor meeting.
NOTE: If you aren't selected to present on Nov 3, we will consider your application for upcoming investor meetings held monthly on the first Wednesday of the month.
Selection Committee
The selection committee includes members of the Agrifood investment community. They will participate in the online pre-screening meetings on Oct 12 and Oct 19 between 9:00 AM PST and 2:00 PST.
Frank Leffelaar - Agrifood Tech Angel Investor & Advisor, Deal Lead Agrifood at VANTEC and eFund, EiR at Foresight
James Freeman - Angel Investor, member of Valhalla, Startup TNT
Darren Bolding - Regional Director, Alberta and British Columbia at Natural Products Canada
Steve Hansen - Managing Director, Equity Analyst - Transportation & Agribusiness at Raymond James
Tom Urban - Investor and Founder of Agribusiness Advisors, EiR at e@UBC
Erik Kaas - Industry Technology Advisor at NRC-IRAP
Cynthia Shipham - Industry Technology Advisor at NRC-IRAP
Chelsey Gillett - Venture manager at The 51
Stepahnie Bailey - Regional Director Alberta at Foresight
Richard Muller - Peer Leader at Impact United / SVX
Partnering & Sponsoring Opportunities
We are looking forward to partnering with eco system partners from BC and beyond that want to support the growth of angel investment in promising startups before, during and after this event.
Please email info@vantec.ca to express your interest, start a conversation and receive our sponsoring package.
If you wish to make a 90-second community announcement at the investor meeting, please send us your request and details for posting on the website and event agenda to info@vantec.ca


Sponsors
Foresight is Canada's cleantech accelerator. Foresight supports the identification and validation of cleantech opportunities and the successful commercialization of solutions. We bring together innovators, industry, investors, government, and academia to address today's most urgent climate issues and support a global transition to a green economy. Find out more at www.foresightcac.com and follow on Twitter @ForesightCAC.
agriNEXT is a new pan-Canadian, sector-specific accelerator and network hub that brings together stakeholders in agtech – innovators, industry, investors, government, and academia – to scale agtech solutions and promote adoption.
Raymond James Ltd. offers a wide range of services for individual and institutional clients and corporate issuers. Their Advisors have access to a complete offering of high-quality investment products and services, providing them with the resources to customize investment solutions for their clients. Their Equity Capital Markets division provides expertise in Investment Banking, Research, Corporate Finance, and Institutional Sales & Trading.
Visit www.raymondjames.ca
Funding Partners
VANTEC Angel Network is the largest angel group in BC with 120+ angel investors who support promising BC-based entrepreneurs in technology ventures with angel investment, advice and connections. We have been hosting monthly investor meetings since 1999. In 2020 our members and affiliated funds eFund and WUTIF invested in 87 companies.
WUTIF, or Western Universities Technology Innovation Fund, co-invests with angel investors in promising British Columbian technology ventures. They give investors the opportunity to contribute to the BC economy and target very early-stage companies.
In order for WUTIF to invest in your business, your company must satisfy our preliminary screening criteria, negotiate terms and conditions, and complete a technical and business review. Visit their website below to find out more about their screening criteria.
Website: wutif.ca | Email: mike@volker.org
eFund was founded with the goal to achieve consistently higher returns and more exits from angel investments. Since 2011, the fund made 47 investments in 32 BC-based companies. Your investment in eFund qualifies for the 30% BC tax credit and can also be made via your RRSP or TFSA. Please email if you want to learn more about their BC Angel Fund and the option to join their team of active investors.
Website: www.e-fund.ca | Email: info@e-fund.ca
Impact United is a national peer-led movement and community of investors seeking to mobilize capital towards social, economic and environmental justice, comprised of individuals, family offices, faith-based organizations, foundations, and other asset owners. Impact United aims to foster coordinated, informed and collective action among existing and prospective impact investors.
Supporters
Global Affairs Canada helps Canadian businesses grow with confidence by connecting them with international opportunities, funding and support programs, and our network of Trade Commissioners in over 160 cities worldwide. Currently recruiting companies for several Canadian Technology Acceleration programs globally, providing VC mapping services to companies raising capital and accepting submissions for companies to be included in the Dealbook that will be produced and shared with venture capitalists in Silicon Valley, across the U.S, and the rest of the world.
Contact: Ramneet Sran | ramneet.sran@international.gc.ca | 604-363-4548
The Consulate General of the Netherlands in Vancouver focuses on strengthening economic relations between Western Canada and the Netherlands. Its focus areas are aligned with the UN Sustainable Development Goals and include water and climate adaptation, clean and sustainable energy and innovation & technology in the agriculture sector. The Consulate brings businesses, knowledge institutes and governments together to find solutions and to support international exchange, trade and investment. Please get in touch with us if you are looking to connect your organization with the Netherlands.
Contact: Ima Nahumury, Trade Officer | VAN-EZ@minbuza.nl | +1 604 697 5530
Community Partners
e@UBC aims to nurture and foster the entrepreneurial culture within the UBC community, and to assist in the growth of start-up companies emerging from UBC.
SFU VentureLabs scales-up world-class technology companies by 'powering up' ventures with amazing talent, technologies, entrepreneurial and research expertise, access to funding, gov't. assistance programs and international expansion opportunities.
Spring Activator is using business as a force for good to empower social impact leaders with the know-how, network and support needed to build a better business.
Natural Products Canada (NPC) is the driving force behind Canada's Natural Product Innovation Cluster–a strategic community of SMEs, research institutes, corporations, investors, government departments, and service providers who support the development and commercialization of naturally-derived products and technologies in health and life sciences, natural resources, agriculture and agri-food, and sustainable bioproducts. As part of its role in the Cluster, NPC offers a suite of Commercialization Programs to help companies and researchers advance high-potential products and technologies; provides connection and innovation scouting services to industry and investors through its Innovation Hub; and leverages its Investment Fund to help develop and de-risk promising Canadian opportunities. NPC has over 800 opportunities in its pipeline, has completed twelve investments, and has already experienced two exits. Established in 2016, NPC is funded by a range of public and private investors, including the Government of Canada's Centre of Excellence in Commercialization and Research (CECR) program, administered by the Networks of Centres of Excellence.
Visit www.naturalproductscanada.com