Event Details
Free Live Stream of Investment Trends Presentation and Investor Panel Discussion
This stream is offered to enable anyone to watch the investment trends and panel discussion free of charge from anywhere. If you want to watch the investor pitches and network we recommend you buy a ticket to join us online or in person.
By registering for this free online event here you will also receive the recording to watch on demand a few days later in case you missed it.
Investment opportunities that support the transition to a cleaner economy
At this Clean Tech & Climate Tech themed investor meeting we bring together investors, founders and other community stakeholders to meet and support BC-based ventures.
Our mission at VANTEC is to help grow the angel investing community, grow angel investments in BC-based ventures, and support angel investors in making more and better investments.
3:00pm Presentation and Panel Discussion
Presentation: Opportunities in the transition to carbon neutrality
Market Background, Business Models, Recent Trends in Investment and Acquisition, Tips for Investors
Geoffrey Hansen, Partner at Garibaldi Capital Advisors | geoff@garibaldicapital.com
3:15pm Expert Panel Discussion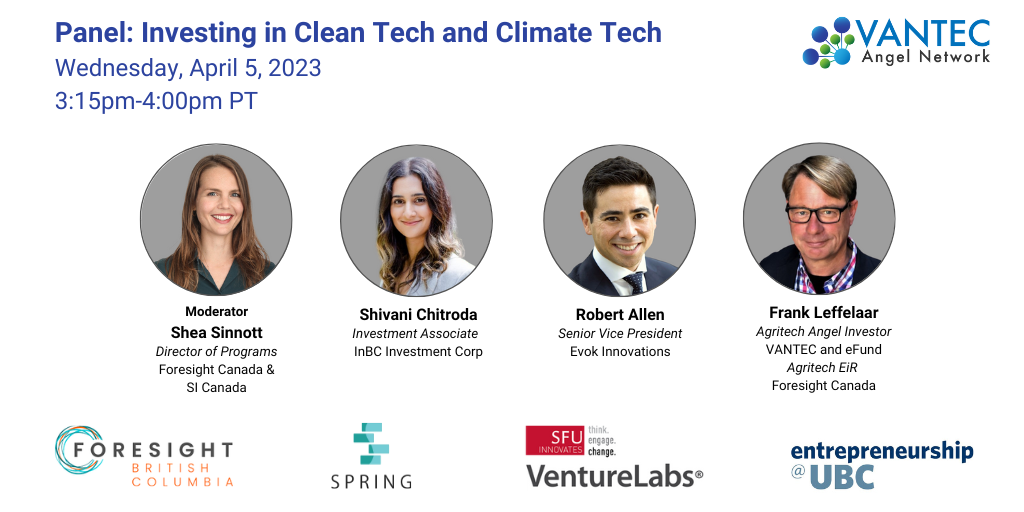 Moderated panel discussion with early stage investors in Clean Tech and Climate Tech.
Shea Sinnott (Moderator) - Director of Programs at Foresight Canada & SI Canada
Shivani Chitroda - Investment Associate at InBC Investment Corp
Robert Allen - Senior Vice President at Evok Innovations
Frank Leffelaar - Agritech Angel Investor at VANTEC and eFund. Agritech EiR at Foresight
4:00pm Investor Meeting
Accredited investors can buy tickets to join the investor meeting in person and also watch the pitches, meet the companies downtown Vancouver or online 4:00 - 6:30 PM HERE
Here are the companies pitching.
PREVIEWS (90 seconds)
Bryosphere | Biotech | BryoSphere is a Vancouver-based company developing a moss biodesign platform for the eco-friendly production of high-value, specialty chemicals
SenseNet | Cleantech | SenseNet is an environmental monitoring company with a focus on protecting remote and vulnerable assets with patented AI and IoT technology
Asset Market | Software | Airbnb for EV charging, digital and IoT infrastructure
UPDATES (90 seconds)
INHUB Farms | Agtech | We are growing a network of smart mushroom farms in every city.
FULL PRESENTATIONS (5 minutes)
Farment Biosolutions | Agtech | Farment developed a patented waste processing system addressing two critical challenges facing farmers: managing animal waste, and the high cost of fertilizer
Refeed Canada | Agtech | Using biology, biotechnology, data science and circular supply chains to decarbonise food production, support food security and accelerate soil regeneration.
Sky Acres | Agtech | Alleviating food insecurity in food deserts using proprietary, cutting edge, low cost, low energy vertical farming systems.
Cellulotech | Clean Technology | Cellulotech has developed a breakthrough process to help the packaging industry make paper-based products at a low cost
Nano Sentinel | Cleantech | NANOSentinel helps clean energy companies optimize their manufacturing controls, saving time & money with our Lab-in-a-Box for toxic metal testing
Lite-1 Microbial Dye | Cleantech | Lite-1 introduces the next generation of 100% sustainable colour generated from abundant microorganisms in nature that can safely return to nature
Talius | Construction | Talius is the Canadian leader in innovative and attractive roll shutters and solar screens for security and shading solutions.