Event Details
Opportunities in Data-Driven Tech

Why Data is Driving the Hottest Areas of Tech Growth and Investment
In a digital world, digital data is the fuel, currency and raw material needed to thrive in our modern world. While some technology creates unparalleled amounts of data, many exciting technologies create the opportunity to view, secure, refine, share, analyze, regulate and automate data for business benefit.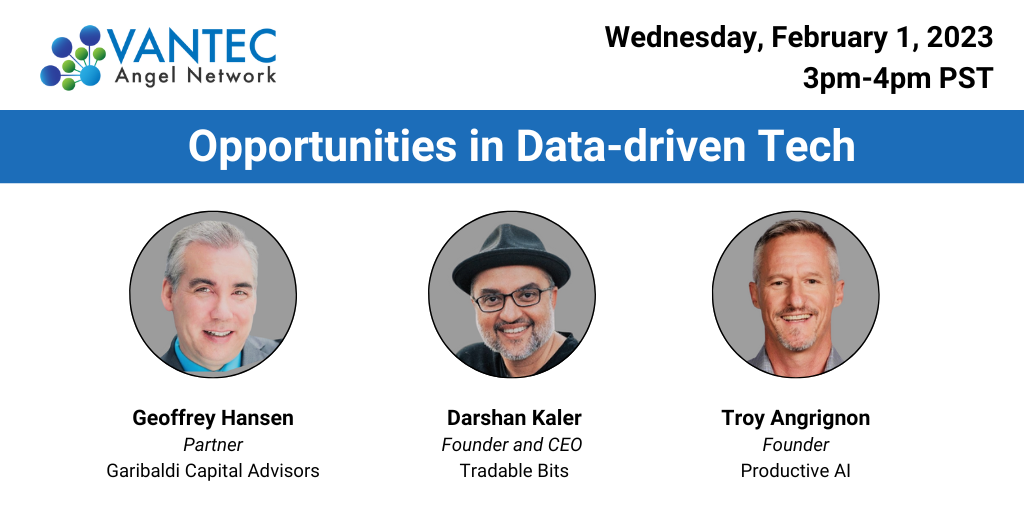 3:00pm Presentation and Panel Discussion
Presentation: Opportunities in Data-Driven Tech
Market Background, Business Models, Recent Trends in Investment and Acquisition, Commercialization Models, Tips for Investors
Expert Panel Discussion
A discussion with Data Tech companies at scale.
Moderator: Geoffrey Hansen, Partner at Garibaldi Capital Advisors | geoff@garibaldicapital.com
Darshan Kaler, Founder and CEO of Tradable Bits
Troy Angrignon, Founder of Productive AI
Panel Bio's
Geoff is a seasoned tech entrepreneur with multiple successful exits in communications, e-commerce, mobility and biotech. After years as a venture capitalist, spent 15 years as a growth advisor to hundreds of technology companies. Also an active angel investor and an analyst behind BC's Ready to Rocket list. Garibaldi is Canada's leading tech-focused investment bank helping tech companies with capital raising and exit transactions.
Creating shared moments is Darshan's lifelong vision. Whether it was building communications infrastructure at Bell, or uniting billions worldwide to watch the 2010 Olympics, he is driven by connecting people around collective experiences. Tradable Bits is the pinnacle of the past 30 years he's spent bringing people together with communication technology. Everything his team builds on their fan-marketing data platform brings fans closer to the artists, teams and brands they love.
Troy Angrignon is the founder of Productive AI, the leading go-to-market strategy consultancy for AI-related companies. Troy has always been active in emerging technology, starting with his role at Business Objects in Vancouver as an Emerging Technology Strategist. He later moved to Silicon Valley, where he was a sales specialist selling Cisco networking and machine-learning based security solutions into webscale state/local government accounts. He was an early sales and marketing executive in five startups that have all exited through acquisition: Appirio, RightScale, Cloudscaling, SwiftStack, and Cloud Technology Partners. Troy has sold into everything from startups to Fortune 50, across technology, finance, service provider, and public sector accounts in the USA, Europe, and Asia.
Investor Meeting
Accredited investors can buy tickets to join the investor meeting in person downtown Vancouver or online 4:00 - 6:30 PM HERE