Event Details
Opportunities in Data-Driven Tech

Why Data is Driving the Hottest Areas of Tech Growth and Investment
In a digital world, digital data is the fuel, currency and raw material needed to thrive in our modern world. While some technology creates unparalleled amounts of data, many exciting technologies create the opportunity to view, secure, refine, share, analyze, regulate and automate data for business benefit.
Companies can apply to pitch here before January 10. Selected companies will be invited for a prescreening on January 17. The presenting companies will be announced 2 weeks prior to the meeting.
The hottest tech areas include:
Data Analytics
Customer Data Platforms
Data Security
Data Governance
Internet of Things (IoT)
AI and Machine Learning
Data-as-a-Service
Here are some interesting stats to consider:
97% of Fortune 1000 companies are investing in data initiatives.(Wavestone)
The data as a service market is expected to grow at a CAGR of 36.9% and reach $61.42 Billion by the end of 2030. (MRFR)
The global data privacy software market size is estimated to achieve a market size of $ 35 Billion by 2030; growing at a CAGR of 40.2% (Acumen)
The Big Data Security Market is expected to reach $ 38.23 billion by 2026, at a CAGR of 17.1%. (Mordor)
The global advanced analytics market size was valued at $34.56 billion in 2021 and is expected to expand at a compound annual growth rate (CAGR) of 21.1% from 2022 to 2030. (Grand View)
The number of connected Internet of Things (IoT) devices to reach 14.4 billion by end of 2022 (IoT Analytics) The global Internet of Things (IoT) market size is expected to reach $875 billion by 2025 at a CAGR of 26.9% (MDF)
Global market for AI in big data and IoT as a whole will reach $31.4B by 2027 (Research and Markets)
In Q2 2022, there were 1,340 AI and machine learning VC deals worth a total $20.2 billion (Pitchbook)
These data-oriented businesses are high growth as the trends create powerful tailwinds. And the business models range from subscription to usage-based pricing to more advanced managed services models.
In our themed meeting on February 1, we will introduce you to a group of the most promising seed-stage companies that are being driven forward by data and tech that leverages these data trends.
A G E N D A
2:30pm Registration & Networking
In-person networking and random networking on zoom.
3:00pm Welcome & introductions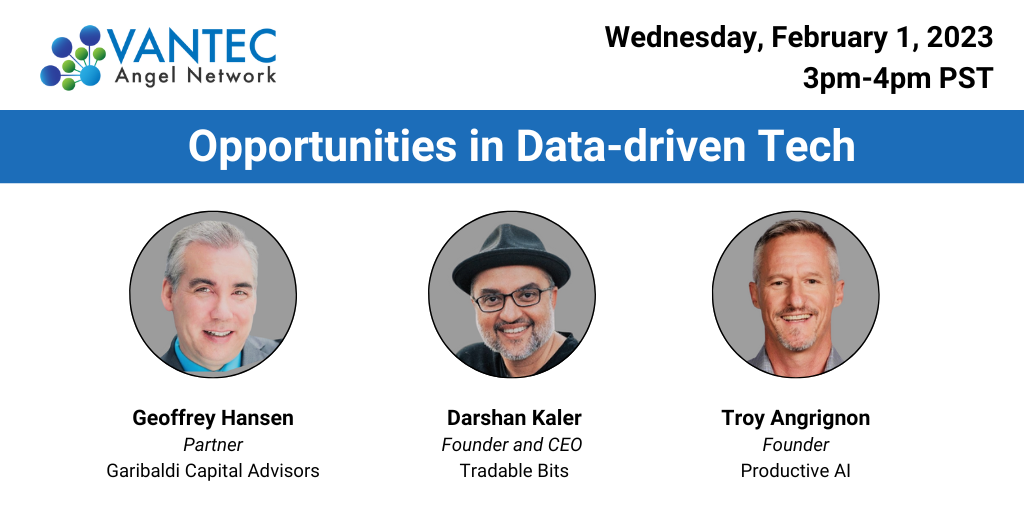 3:05pm Presentation
Opportunities in Data-Driven Tech
Market Background, Business Models, Recent Trends in Investment and Acquisition, Commercialization Models, Tips for Investors
3:15pm Expert Panel Discussion
A discussion with Data Tech companies at scale.
Moderator: Geoffrey Hansen, Partner at Garibaldi Capital Advisors | geoff@garibaldicapital.com
Darshan Kaler, Founder and CEO of Tradable Bits
Troy Angrignon, Founder of Productive AI
Panel Bio's
Geoff is a seasoned tech entrepreneur with multiple successful exits in communications, e-commerce, mobility and biotech. After years as a venture capitalist, spent 15 years as a growth advisor to hundreds of technology companies. Also an active angel investor and an analyst behind BC's Ready to Rocket list. Garibaldi is Canada's leading tech-focused investment bank helping tech companies with capital raising and exit transactions.
Creating shared moments is Darshan's lifelong vision. Whether it was building communications infrastructure at Bell, or uniting billions worldwide to watch the 2010 Olympics, he is driven by connecting people around collective experiences. Tradable Bits is the pinnacle of the past 30 years he's spent bringing people together with communication technology. Everything his team builds on their fan-marketing data platform brings fans closer to the artists, teams and brands they love.
Troy Angrignon is the founder of Productive AI, the leading go-to-market strategy consultancy for AI-related companies. Troy has always been active in emerging technology, starting with his role at Business Objects in Vancouver as an Emerging Technology Strategist. He later moved to Silicon Valley, where he was a sales specialist selling Cisco networking and machine-learning based security solutions into webscale state/local government accounts. He was an early sales and marketing executive in five startups that have all exited through acquisition: Appirio, RightScale, Cloudscaling, SwiftStack, and Cloud Technology Partners. Troy has sold into everything from startups to Fortune 50, across technology, finance, service provider, and public sector accounts in the USA, Europe, and Asia.
4:00pm Investor Meeting
Community Announcements
Protein Industries Canada: Advancing agrifood through artificial intelligence
Contact: Sai Vanga, Program Specialist, Protein Industries Canada
SFU VentureLabs accelerates science and technology-based new ventures who have found their product market fit become profitable, sustainable businesses. These companies are supported by programs, mentoring, and services companies need most, when they need them most
Contact: Dave Thomas, EiR | dave@venturelabs.ca
Growing the VANTEC Community in 2023
Contact: Roger Killen | community@vantec.ca
eFund Angel Fund
contact: Thealzel Lee, President, eFund
WUTIF Angel Fund
contact: Mike Volker, CEO, WUTIF Capital
UPCOMING INVESTOR EVENTS
VANTEC Meeting: Opportunities in Data-driven Tech Wednesday, February 1
Keiretsu Forum Vancouver Tuesday, February 7
Angel Forum: Western Angel Investment Summit Thursday-Friday, February 23-24
VANTEC Meeting Wednesday, March 1
4:15pm Company Presentations
PREVIEWS (90 seconds)
Geco Engineering | Agtech | Gust | Herbicide resistance can cost a farm $500k/year and is driving increasing chemical usage. At Geco we find resistance early and nip it in the bud.
Sensor Globe | Clean Technology | Gust | Empowering our customers to be industry leaders through unrivalled sustainability.
UPDATES (90 seconds)
ThisFish Inc. | Software | Gust | World Leader in AI-Powered Seafood Traceability and Production Software.
Techbrew | Agtech-Indoor Ag-Automation | Gust | Eliminating Labour Pain In Mushroom Industry
Care2Talk | Telecommunications | Gust | A simplified platform to connect to loved ones, while providing a healthcare solution for care communities tailored towards seniors & families.
OneCup AI | Agriculture | Gust | OneCup AI uses computer vision to identify, track and monitor livestock.
FULL PRESENTATIONS (5 minutes)
Aterio.io | Real Estate | Gust | In real estate, where do you invest? How do you make the decision of what location can give you the best future appreciation of your asset? Go to aterio.io
Orgmatch | Internet / Web Services | Gust | Matching funders and nonprofits.
Forward Security Inc. | Security | Gust | We make application and cloud security tools, processes, and issues simple and effective.
salonMonster | Software | Gust | We empower hairstylists by reducing money lost through no-shows and time spent on non revenue generating administration.
Revela Systems | Software | Gust | Machine learning monitoring API built for enterprise.
5:30pm-6:30pm Meet the Companies and Founder & Investor Networking
In-person networking between investors, founders and community members. We will provide the companies with a table to meet with interested investors and serve complimentary beverages and appetizers.
Investor Decks


VANTEC members can access the company profiles and presentations on GUST and via one convenient link on Docsend via this page when logged in at vantec.ca (members only).
NOTE: In our effort to share the pitches and presentations beyond our venue for a bigger impact we record our events and make them available online to our investor members.
By attending this event, you consent to the use of photography/video/audio in all forms of media, for any and all promotional purposes including advertising, display, audiovisual, exhibition or editorial use by VANTEC Angel Network without payment or other compensation.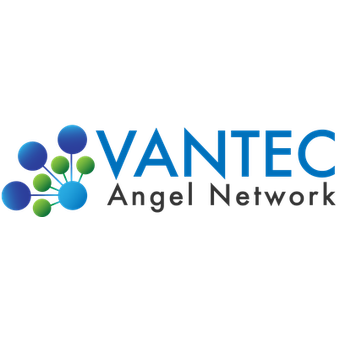 SFU ventureLabs, 555 W Hastings St Suite #1100, Vancouver, BC & ONLINE