VANTEC Community Social 4-6pm
We're excited to get back together again and we plan to host monthly founder and funder networking at SFU VentureLabs over drinks and bites.
This is ticketed event that includes appies and 2 drink tickets. Attendance is free to VANTEC members, sponsors and companies that presented on June 1.
Meet and network with our community members:
VANTEC community members, sponsors and supporters

companies that presented previously at VANTEC

companies interested to connect and present
Investor Deep Dives 3-4pm (Invitation Only)
Before the social, we offer companies who gave a full presentation at VANTEC the opportunity to meet with investors for a conversation and deep dive online or in person. Investors can sign up for the deep dives by emailing the founders for an invitation (contact details on the VANTEC investor meeting agenda of the preceding week). Meeting rooms have been reserved at SFU VentureLabs downtown.
This is an invitation-only meeting for companies and investors.
Full Presenters from the last Meeting:
Geenees | Software | Gust | Geenees is an in-kind gifting platform, pioneering the new age of giving. Where you can grant wishes for families in need.
Proteic Bioscience Inc. | Biotechnology | Gust | We use our AI-driven platform to design and generate novel therapeutic molecules
EBP Digital Technologies Inc. (Ebuilding) | Software | Gust | Our vision is to make home-building easy, affordable, efficient and transparent.
Apply to Pitch at VANTEC
At VANTEC, we give you more than one chance to present your investment opportunity to investors. Start with a peer-reviewed Pitch / Investor Readiness workshop hosted by partners including all BC accelerators, move on to a Preview Presentation at VANTEC Angel Network Meeting, then a Full Presentation in a next Meeting, and return for an Update Presentation when you've hit some key milestones. There is a $95 CAD per company pitch at the VANTEC Angel Network Meeting.
Virtual Office Hours for Founders
VANTEC offers founders access to a VANTEC community member for a conversation to help them prepare for their application to pitch to angel investors, get feedback on their deck and GUST profile and ask any other equity fundraising-related questions in a scheduled 25-minute conversation. Please email us if you want to reserve a spot or if you want to volunteer to support us with this service.
Become a VANTEC Member
We are a group of 180+ angel investors who want to support promising BC-based entrepreneurs in technology ventures with angel investment, advice and connections.
We have been hosting monthly investor meetings since 1999. Our members and affiliated funds eFund and WUTIF invested $8.2 in 95 companies in 2021.

Our full membership is still only $600 per year to attend any of our 11 meetings online or in person when that becomes a safe option again. Partner Group and Fund members only pay $400. For remote investors, we offer an online membership for only $300. Non-members can join a meeting by invitation or for a $95 event fee. The investor packages are provided on our member-only portal a few days before the meeting and the recordings of the pitches are shared a few days later via our email newsletter.

We record and share panel discussion from our education and themed investor meetings for anyone to enjoy on our YouTube.

If you're interested in joining our group and want to learn more about applying, we're happy to have a chat. Email us at info@vantec.ca and we'll set up a call.
This event is hosted with the support from our sponsors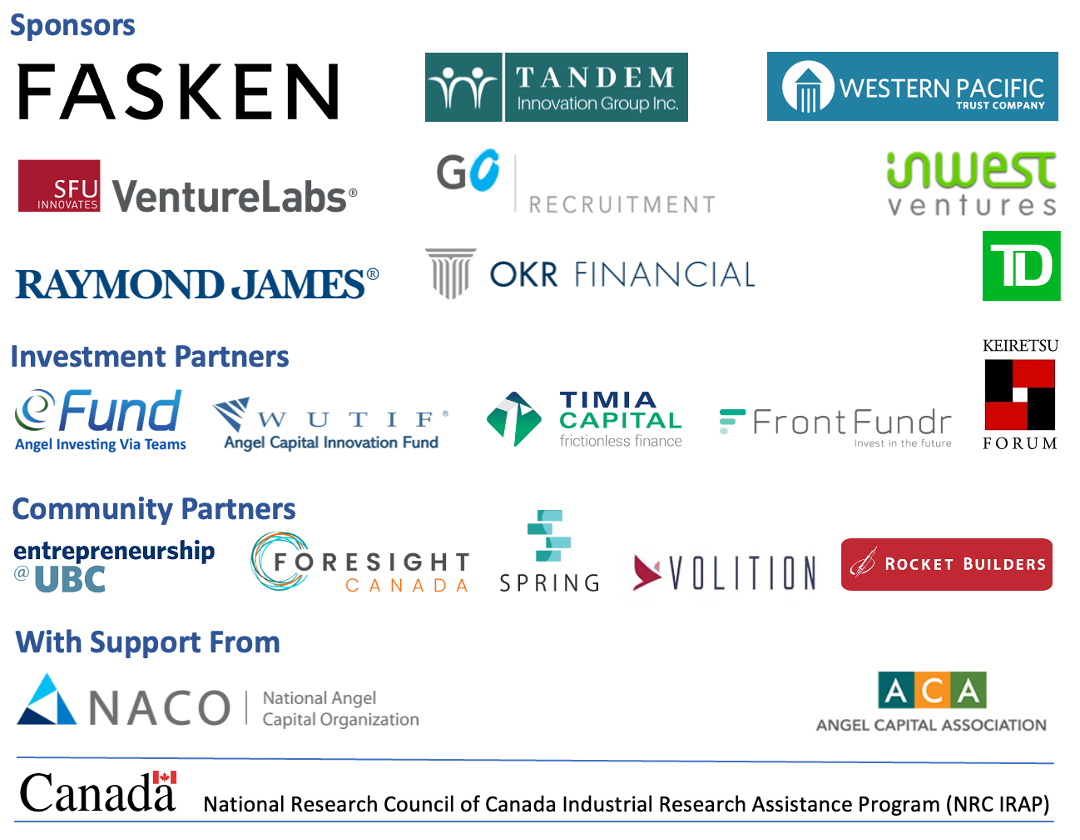 SFU VentureLabs, 555 W Hastings St Suite #1100, Vancouver,