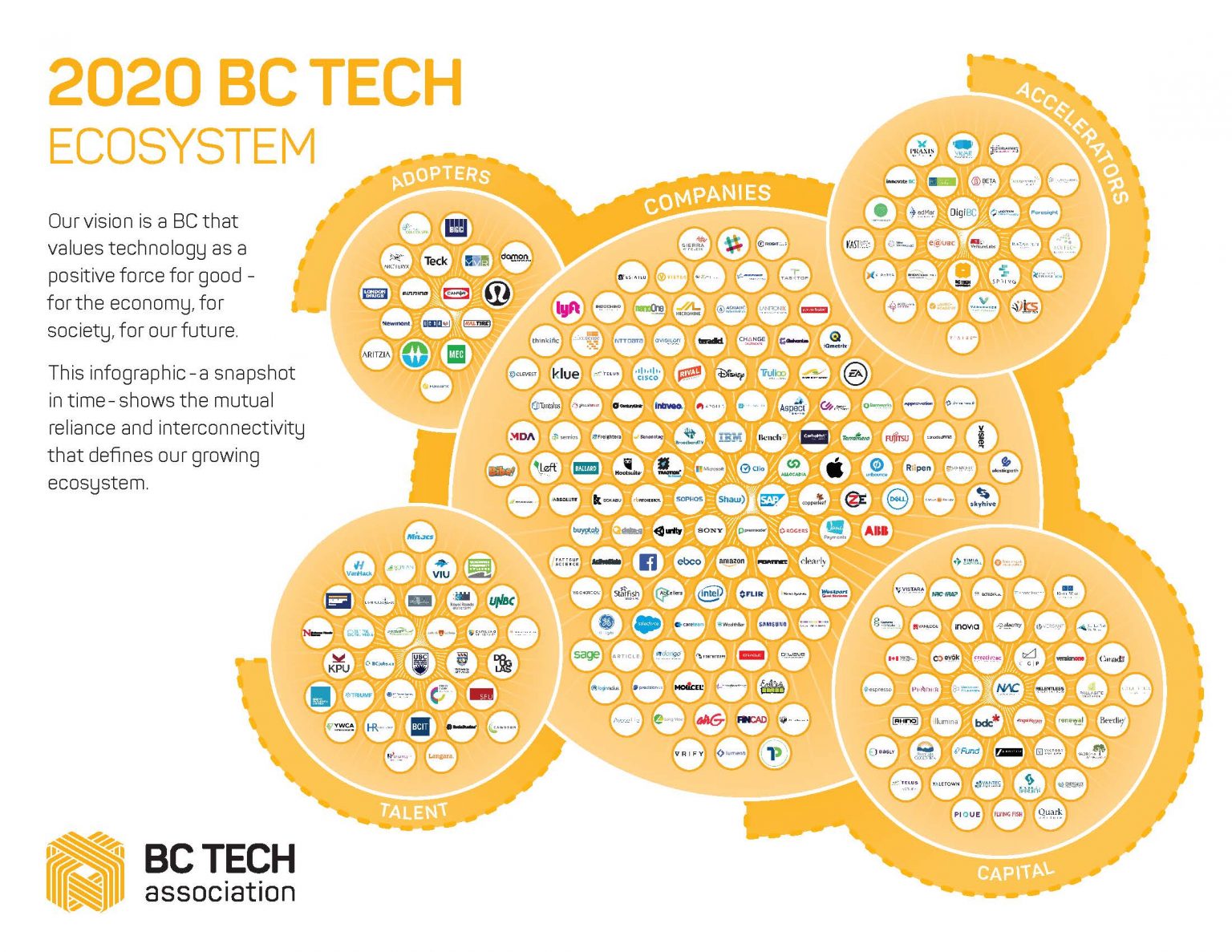 VANTEC is focused on bringing BC's Angel Investor community together with promising early-stage entrepreneurs for learning, insight and meaningful conversations.
We're proud of our active role in the BC' ecosystem and the valued partnership to generate solid returns for investors, grow companies and contribute to Made-in-Canada job and knowledge creation. Every year after the summer break we invite BC's accelerators to present their programs and some of their most promising ventures.
Vancouver and Lower Mainland Accelerators
adMare BioInnovations - Health & Life Sciences Accelerator
AdMare BioInnovations is Canada's Global Life Sciences Venture, building the Canadian life sciences industry from sea to sea. We source therapeutically and commercially promising research from leading academic and biotech partners to create new companies of scale, providing specialized expertise, infrastructure, and capital to help existing companies scale up, and driving the growth of those companies into Canadian anchors by training the next generation of highly-qualified personnel. Companies include: Zymeworks, Mesentech, Precision Nanosystems, Sepset Biosciences, Sitka Biopharma. http://admarebio.com
Creative Destruction Lab Vancouver - CDL West
CDL-West is located in Vancouver, BC at the Sauder School of Business, University of British Columbia. It is a fast-growing nonprofit tech hub on the West Coast, that delivers an objectives-based program for massively scalable, seed-stage, science- and technology-based companies. It runs 15 program streams including Prime (general) and AgTech, AI, Climate, Health, Energy and more - focusing on the commercialization and convergence of technologies that improve human well-being, health and progress and advance solutions to improve our world. https://creativedestructionlab.com | https://www.creativedestructionlab.com/locations/vancouver/
Discovery Parks - Health Tech Accelerator
Discovery Parks uses its assets to create capital through Investment in early stage technology companies, with a focus on Health Technology. It provides business mentorship, capital investment and value creation through its Investment Corporation, Nimbus Synergies Inc., to grow its equity base and to support its Vision. Programs include office, laboratory space and a 5,000 sq. ft incubator space - 'The Generator' - offered in collaboration with the City of Vancouver. An annual competition for startup technology firms offers 12 months of free office space to firms deemed most likely to succeed. http://www.discoveryparks.com

Entrepreneurship@UBC
Entrepreneurship@UBC propels UBC innovations out into the world through venture creation, providing UBC students, researchers, faculty members, alumni and staff with the resources, networks, and funding they need to succeed. To date, entrepreneurship@UBC ventures have raised more than $221 million in funding, generated more than $30 million in revenue and hired more than 500 employees, stimulating the economic and social landscape of B.C. while building anchor companies that have a global impact. https://www.entrepreneurship.ubc.ca
Futurpreneur Canada
Futurpreneur Canada has been fueling the entrepreneurial passions of Canada's young enterprise for two decades. We are the only national, non-profit organization that provides financing, mentoring and support tools to aspiring business owners aged 18-39. Our internationally recognized mentoring program hand matches young entrepreneurs with a business expert from a network of more than 3,000 volunteer mentors. https://www.futurpreneur.ca/en/
Founder Institute - Pre-Seed Accelerator
The Founder Institute is the world's largest pre-seed accelerator, having helped launch over 4,300 companies across 200+ cities and six continents. Founded in 2009, it was apparent that most entrepreneurs at the idea and launch stages lacked the structure, feedback, and support network needed to be successful. In total, Founder Institute Alumni have raised over $950M and are worth an estimated $20B. https://fi.co/
Foresight Cleantech Accelerator
Foresight is Western Canada's clean technology accelerator. We build industry-supportive ecosystems that help drive the growth, commercialization, and adoption of SME developed technologies focused on progressive climate targets and transitions to a green economy. foresightcac.com
Launch Academy
Launch Academy is Vancouver's leading entrepreneurship facility that has incubated more than 3500 entrepreneurs of which 300 have grown their startups to Seed and Series A stage and raised over $300M in funding. http://launchacademy.ca

Praxis Spinal Cord Institute
Praxis Spinal Cord Institute brings together the best in class research, commercialization and consumer experts in the area of SCI to provide companies with the tools needed to scale and develop their innovation internationally. Praxis' 12-week commercialization program is geared towards healthcare companies with a product ready-to-launch into the market, transforming the lives of people living with SCI. https://praxisinstitute.org
RADIUS @ SFU - Social Innovation Hub
RADIUS is a social innovation hub based in the Beedie School of Business, SFU, in the heart of Vancouver at the Charles Chang Innovation Centre. We have supported over 150 social ventures, diving deep into social innovation lab and systems change work with a multitude of partners; training hundreds of SFU students and community members; and engaging thousands of people through events and knowledge sharing. https://radiussfu.com
SFU VentureLabs - Accelerator
VentureLabs accelerates innovation-based ventures through the BC Venture Acceleration Program, helping businesses accelerate market validation, access mentoring from experienced serial entrepreneurs, learning opportunities and workshops, co-working, meeting, and maker spaces, as well as access to financing. http://venturelabs.ca
Spring Activator - Impact Accelerator
Spring Activator is a global incubator, accelerator and advisory firm that helps impact entrepreneurs, investors and entrepreneurial ecosystem builders thrive. We have helped 750+ entrepreneurs, created 500 companies and raised $24M+. We support 40 communities on 5 continents. https://spring.is/
Tamwood - Global Startup School
Part business school and accelerator the Startup School helps individuals discover and learn the skills to launch their Business. Students can take courses in innovation and entrepreneurship and then follow on to use the skills they have learned to start their own company. https://www.tamwoodcareers.com/global-startup-school/
VR/AR Association - Vancouver Chapter
Vancouver is the 2nd largest VR/AR ecosystem in the world! The VRARA Vancouver chapter is the leading voice of VR/AR in BC and the larger ecosystem. This includes original content creators & creative distributors to innovative hardware companies and ambitious researchers. https://www.thevrara.com/vancouver-chapter
BC Regional Accelerators
Accelerate Okanagan
As the Okanagan tech community and companies within it continue to grow, so does Accelerate Okanagan's (AO), support model. Coined 'Continuous Acceleration,' AO delivers unique programming for different stages of growth. https://www.accelerateokanagan.com
Alacrity
Alacrity Canada facilitates success and economic growth in the Western Canadian technology sector by providing support and entrepreneurial mentorship to promising entrepreneurs, in addition to finding and connecting these individuals with the venture capital funding needed to develop thriving local tech companies. https://www.alacritycanada.com/
Innovation Central Society
Innovation Central Society supports technology entrepreneurs in starting and growing successful companies. We host events and run programs that focus on developing and supporting an innovative technology community in the northern interior of British Columbia. https://ics.silkstart.com
Innovation Island Technology Association
Innovation Island Technology Association (Innovation Island) is Vancouver Island's regional voice for technology entrepreneurship, We support entrepreneurs to start and grow technology companies by providing them with programs and resources they need to succeed. Our companies have received more than $20M in investment, generated $25M in revenues and created nearly 200 jobs. We provided business support, special events and a startup accelerator. https://innovationisland.ca
Kamloops Innovation
Kamloops Innovation gives new and growing technology-enabled businesses the mentorship, connections and community they need to thrive. We offer affordable programs that guide, coach and mentor entrepreneurs. https://kamloopsinnovation.ca
Kootenay Association for Science and Technology
Kootenay Association for Science and Technology (KAST) is a nonprofit technology organization serving the entire Kootenay regions. We are passionate about connecting people, businesses and their innovative ideas. Since 1998, we've led our region's economic development through technology and innovation. https://kast.com
Purppl- Social Enterprise Accelerator
Purppl accelerates ideas, projects and enterprises that work for the public good. We help social entrepreneurs build sustainable revenue models and sustainable impact models. https://purppl.com/
VIATEC - Victoria
Victoria Innovation, Advanced Technology and Entrepreneurship Council (VIATEC), started in 1989. Its mission is to cultivate a most cohesive tech community by providing resources to tackle shared opportunities and challenges. It offers an EIR program, free business coaching, and a venture acceleration program in association with Innovate BC. https://www.viatec.ca
Other BC Organizations Supporting Startups
Innovate BC
Innovate BC represents the Government of British Columbia in BC's innovation ecosystem. We link innovators to funding, resources and support to help grow companies in every corner of the province. We help entrepreneurs take innovation from the white board to the real world. https://innovatebc.ca
Interface Health
Interface Health Society is a not-for-profit digital health organization based in Vancouver, BC, has launched Interface Health: a global digital health accelerator and online community. The accelerator is a place for digital health innovators to find the resources they need, anytime, anywhere. That means faster access, reduced costs, improved experiences and better outcomes for everybody. Interface Health is an integrated multi-platform consisting of an annual global competition, a social network and an annual summit. https://interfacehealth.com
New Ventures BC
New Ventures BC (NVBC) is a nonprofit organization that has supported 2,530 early-stage tech startups, creating 3,720 jobs and raised $335 million in financing over 20 years of operation.Through government and corporate support, our programs, events and competitions provide the education, tools, networking, and grant funding for tech startups to succeed. https://www.newventuresbc.com
Vancouver Entrepreneurs' Forum
The Vancouver Entrepreneurs Forum (VEF) is an online and offline platform for entrepreneurs within the technology realm. Through monthly forums, we bring together like-minded people to cultivate connections and create conversations designed to stimulate ideas. We host eight events per calendar year, kicking off our season in September and running until May with a hiatus in December. https://www.vef.org
Tandem Innovation - Investment Ready Program
Tandem Innovation provides a network of Contract CFO's, Accounting and Bookkeeping Professionals with co-founder mindsets to collaborate with visionary entrepreneurs to innovate and grow businesses from startup to exit. https://www.tandemig.com
Volition Advisors
At Volition, we support entrepreneurs across Canada and beyond by providing space for conversations, connections, and practical skill-building and knowledge-sharing across sectors and stakeholders. We've hosted over 90 pitch events with 5,000+ attendees. http://volitionadvisors.com/
Women's Enterprise Centre
Women's Enterprise Center (WEC) is a non-profit organization helping BC women start, lead and grow their own businesses. We provide business loans up to $150K, with access to an additional $100K through a partnership with the Business Development Bank of Canada (BDC). WEC has fueled the success of women-led businesses since 1995, providing business skills training, personalized business advice, mentoring, practical business resources and a supportive community to help women business owners gain the skills, mindset, financing and networks to realize their business potential. We have offices in Kelowna, Vancouver and Victoria. https://www.womensenterprise.ca
Other Canadian Organizations Supporting Startups
Natural Products Canada
Natural Products Canada (NPC) is the driving force behind Canada's Natural Product Innovation Cluster–a strategic community of SMEs, research institutes, corporations, investors, government departments, and service providers who support the development and commercialization of naturally-derived products and technologies in health and life sciences, natural resources, agriculture and agri-food, and sustainable bioproducts. As part of its role in the Cluster, NPC offers a suite of Commercialization Programs to help companies and researchers advance high-potential products and technologies; provides connection and innovation scouting services to industry and investors through its Innovation Hub; and leverages its Investment Fund to help develop and de-risk promising Canadian opportunities. NPC has over 500 opportunities in its pipeline, has completed six investments, and has already experienced two exits. https://www.naturalproductscanada.com/en/
Let us know if we missed anyone or if you'd like us to include or link to more details on programs, demo days etc. Just send an email to marketing@vantec.ca
In a next post we'll look at the seed stage investors.