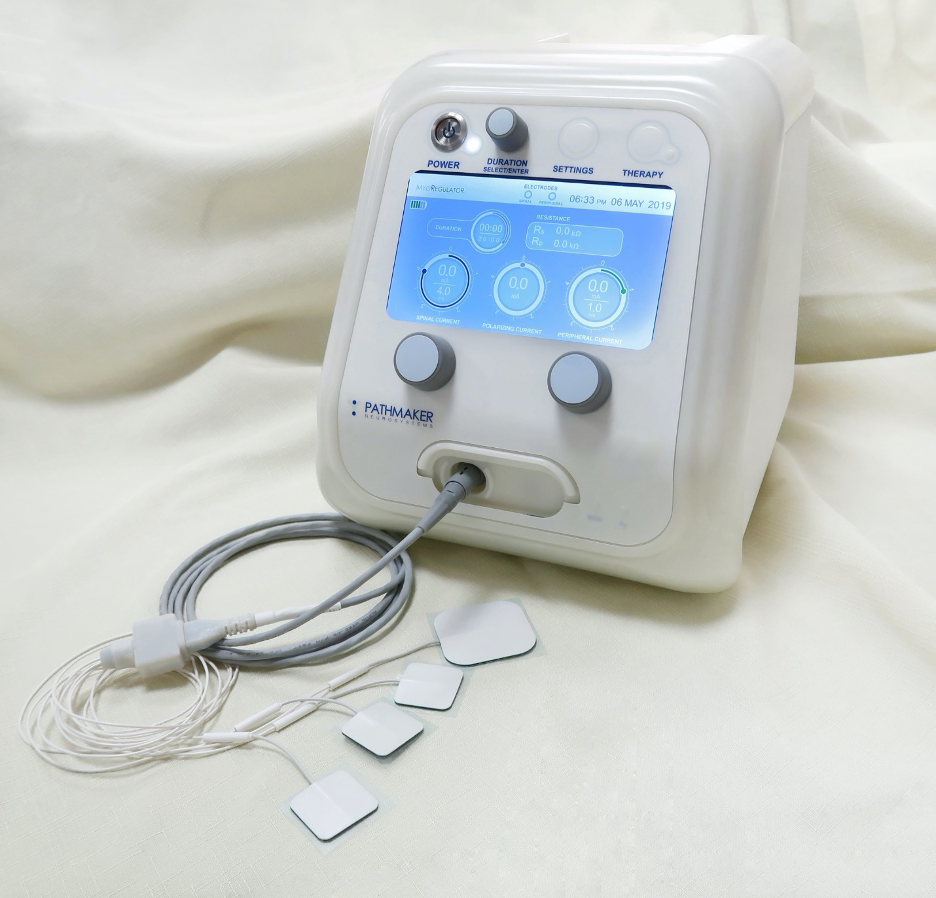 PathMaker's MyoRegulator device for the treatment of muscle spasticity.
---
A conversation with Nader Yaghoubi, President, CEO and Co-Founder of PathMaker Neurosystems
Tell me about yourself and your journey to this point. How did you decide to start the company?
I graduated from the combined MD/PhD degree program at Boston University School of Medicine, and did my Ph.D. in Neuropharmacology, where my dissertational work was in single-cell electrophysiology and ligand-gated ion channels.
After entering the surgical residency program at Lenox Hill Hospital in New York, I realized my real interests were for early-stage technology development. I pivoted to a track where I've been focused on early-stage investing and company formation – I've been doing that for 20 years.
Along the way, I met Dr. Zaghloul Ahmed, Professor and Chairman of the Department of Physical Therapy at City University of New York. He was pioneering breakthrough multi-site neuromodulation techniques for the treatment of serious neurological conditions. I saw how his revolutionary approach could change the standard of care for millions of patients worldwide.
We founded PathMaker Neurosystems to bring this non-invasive, painless technology to patients who need it - and who are otherwise forced to rely on uncomfortable, invasive, unsafe and unreliable treatment options. We recently decoded the molecular mechanism of action of our multi-site stimulation technology, a world-first across all neuromodulation technologies.
Our first product, MyoRegulator®, is the world's first neuromodulation device for the non-invasive treatment of spasticity, a debilitating condition found in people with SCI, stroke, multiple sclerosis, brain injury and cerebral palsy.
Last year, we published our first human feasibility study showing clinical efficacy in post-stroke patients. We are working to bring this product to market as soon as possible.
Our second device, ALSuppressor™, is the first neuromodulation device for the treatment of amyotrophic lateral sclerosis (ALS) and represents a groundbreaking advancement in the treatment of this fatal neurodegenerative disease.
PathMaker Neurosystems is making strides in understanding and improving the treatment of serious neurological disorders. It is leading the way towards the wide use of non-invasive neuromodulation systems that replace the need for drugs or surgery.
Who are your Customers / Prospective Customers - What do they do?
Our devices will be used by clinicians in hospitals, medical offices and rehabilitation or spasticity clinics. They treat patients with neurological disorders such as spasticity with limited and often non-optimal treatment options. The first line of treatment consists of either oral medications (baclofen, tizanidine) or botulinum neurotoxin injections, which often have significant undesirable effects. Other more invasive treatments options include: implantation of an intrathecal baclofen pump, or surgical procedures that cut tendons or nerves. None of these treatment options are simultaneously painless, non-invasive and efficacious. We provide clinicians with a strong alternative to drugs or surgery with our non-invasive neuromodulation products, so they can take care of their patients without these drawbacks.
What Solution / Technology are you using to meet your Customers' needs?
Our breakthrough non-invasive neuromodulation technology was originally developed by Dr. Zaghloul Ahmed. We demonstrated its efficacy in a mouse model of spasticity and described the molecular mechanism behind its effects in a mouse model of spinal cord injury.
In 2019 we published the results of a pilot trial in upper-limb post-stroke spasticity, and showed that five consecutive 20-minute daily treatments with MyoRegulator® significantly lowered spasticity levels and improved motor function for up to five weeks after the end of treatment.
Today, a pivotal randomized, sham-controlled European trial is ongoing at the Paris Brain Institute and sponsored by INSERM. Clinicians and physicians want to see proof of efficacy and safety before adopting a new treatment into their practice, so we are building a strong case for our technology before entering the market.
What differentiates your company from the competition?
PathMaker Neurosystems has pioneered a new field of multi-site neuromodulation. We have 35 issued patents protecting our technology and products globally. We are the only company developing non-invasive neuromodulation products for the treatment of spasticity and ALS. The best opportunities are coming to us organically by stakeholders who are realizing who realize the impact of our current and future products. They understand the commercialization potential and the paradigm-shift in clinical practice.
Randy Fisher, MA, BJ, is a communications and market research professional with experience in business writing, customer interviewing, media relations and storytelling. His experience in customer discovery and validation and education helps firms accelerate adoption and rapidly penetrate new markets.https://www.linkedin.com/in/customerdiscoverypros/ He teaches business and proposal writing and interview skills at Rutgers University in New Jersey. He began his career in Vancouver and worked as a business journalist with The Globe and Mail, Financial Post and CBC Radio.