VANTEC's mission is to grow the Angel investor community in BC and to present investors with vetted investment opportunities in BC's most promising startups.
Every year after the summer break we invite BC's accelerators to present themselves, their programs and some of their most promising ventures.
VANTEC Open Network Meeting
As our startup eco system evolves, so do our university programs and accelerators. This is a great event to get a quick update on who and what's new in our eco system, meet some promising startups and network with all these great people. All presentations and pitches are 90 seconds and the companies have a chance to show their wares and have investor conversations. VANTEC Open Network 2019 is on the 11th of September at VentureLabs downtown Vancouver, 11th floor, 555 W Hastings St.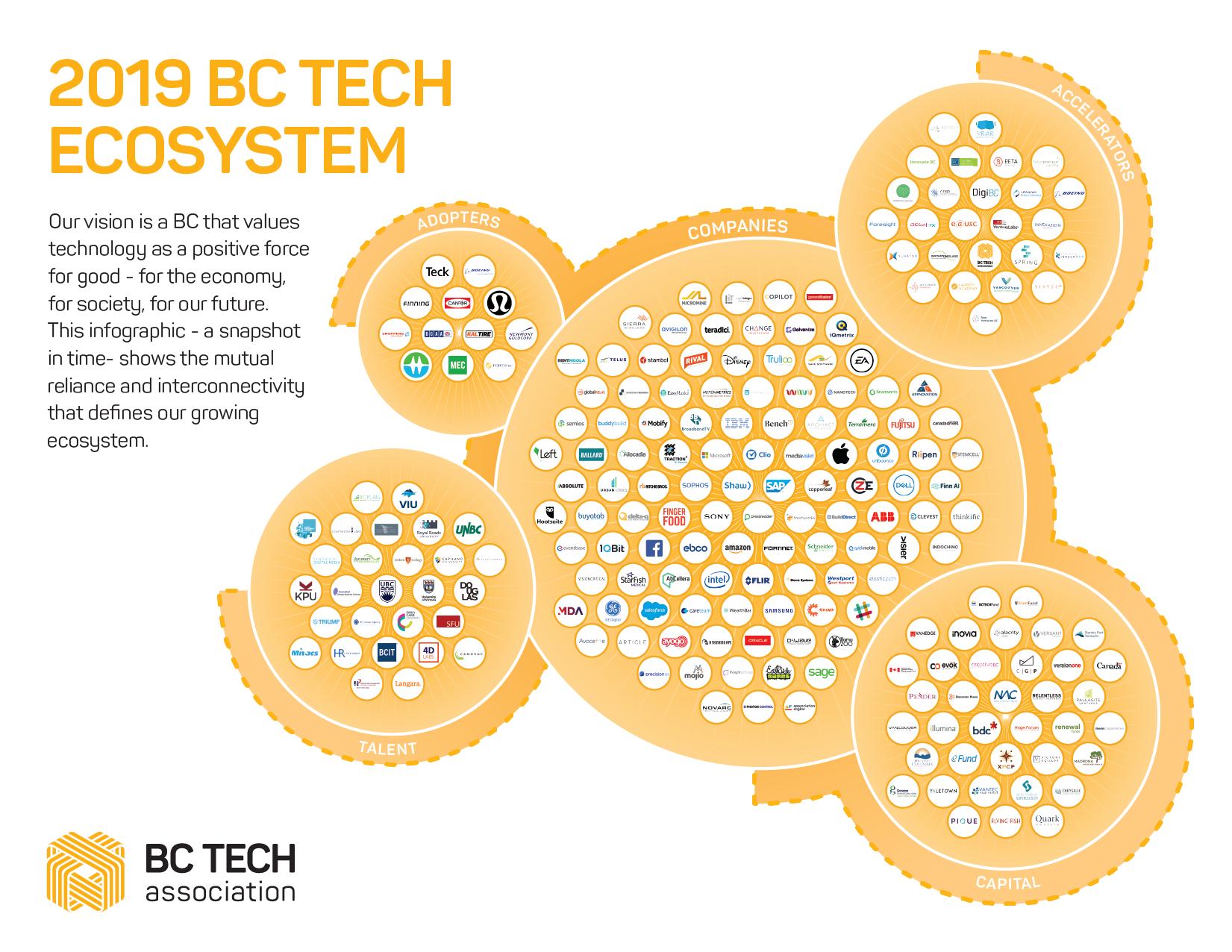 What accelerators do?
The BC Tech Ecosystem has a rich network of resources available to startup founders. For early-stage companies who want to get on the fast track to being ready for investment, accelerators are a great option.
Accelerators are often lumped in with other institutions supporting early-stage startups, such as incubators, but they differ in several respects. Often Industry-specific in their focus, they offer a highly immersive period of intense and focused instruction providing founders with the opportunity to learn at a rapid pace.
During an accelerator program, companies are partnered with mentors and a cohort can last anywhere from 3 to 6 months. Competition to be accepted into the program is high. Accelerators cherry-pick what they determine to be scalable, high growth companies and coach them over that period to become ready to seek investment. Some accelerators also offer financing as part of their program. At the end of a cohort, there is a demo-day, an opportunity for the cohort companies to present their company pitch. Often angel investors attend these events scouting for potential investments.
Here are a selection of BC accelerators, their industry of focus, where applicable, and how they assist early stage companies.
Accel RX - Health And Life Sciences Accelerator
With a focus on life sciences, the Accel program is Canada's national health innovation accelerator fund providing seed capital and expertise to promising early-stage companies developing therapeutics, diagnostics and medical devices.
Entrepreneurship@UBC - eHatch Accelerator
e@UBC is a unique program that delivers a combination of education, venture creation, and seed funding to maximize the number of successful ventures coming out of UBC and UBC Okanagan
Foresight - Cleantech & Agtech Accelerator
With a focus on Canadian transformative clean technology start-ups Foresight helps companies go from launch to scale in collaboration with industry, corporate partners, universities, government agencies, and local service providers. Foresight has three pillar programs, Launch, Growth and Challenge.
Founders Institute - Pre-Seed Accelerator
The world's largest pre-seed startup accelerator, Founders Institute has helped launch over 3,500 companies across 180+ cities and six continents. During their 14-week program companies work through a rigorous company building curriculum with a focus on doing rather than learning. Local Industry experts are on hand to mentor and demo days are streamed to the global network.
Cited as a pre-accelerator program. Launch Academy helps early-stage tech entrepreneurs from diverse industries execute on their startups through education, mentorship, and networking opportunities to launch and find their product-market fit, scale, and grow their companies. The Launchpad is space offering a community for entrepreneurs to support each other in their journey.
Radius SFU - Social Innovation Hub
The RADIUS Slingshot Accelerator is a six-month program that supports early-stage, social impact ventures that are ready to grow. Through their combination of cohort-based learning, individualized mentorship, and equity investment, they help companies to become investment and market-ready.
Spring Activator - Impact accelerator
Spring is committed to global tech ecosystem development offering a startups school for impact entrepreneurs. They offer an IMPACT Startup Visa Accelerator, helping founders and companies to move to Canada to scale their businesses and maximize their impact. They also offer a 2X acceleration program for B2B companies.
Tamwood - Global Startup School
Part business school and accelerator the Startup School helps individuals discover and learn the skills to launch their Business. Students can take courses in innovation and entrepreneurship and then follow on to use the skills they have learned to starting their own company.
VentureLabs accelerates innovation-based ventures through the BC Venture Acceleration Program, helping businesses accelerate market validation, access mentoring from experienced serial entrepreneurs, learning opportunities and workshops, co-working, meeting, and maker spaces, as well as access to financing.

Let us know if we missed anyone or if you'd like us to include or link to more details more details on programs, demo days etc. Just send an email to marketing@vantec.ca