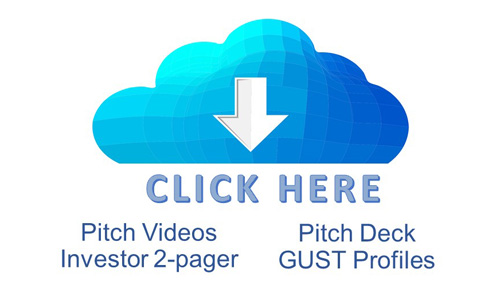 We welcome your feedback on post event information at info@vantec.ca
A G E N D A
NEW - Investor members and registered attendees can now more easily access pitch decks, GUST profiles and post event recordings on their desktop or phone via our new content sharing platform. We welcome your feedback and questions at info@vantec.ca.
Networking 3:30pm
Random founder & investor networking in 5-minute cycles on Zoom.
Community Announcements 4:00pm
Community partners are invited to announce their upcoming events to the investors in the room and subscribers to our newsletter. Simply email us at info@vantec.ca.
Accelerate Okanagan is a Non-Profit Technology Accelerator that supports tech and tech-enabled businesses through mentorship, programming, connections and community building." Contact: Alex Goodhew | alex@accelerateokanagan.com | 250-681-4389
Foresight agriNEXT is a new pan-Canadian, sector-specific accelerator and network hub that brings together stakeholders in agtech – innovators, industry, investors, government, and academia – to scale agtech solutions and promote adoption.
Contact: Andrea Bravo | abravo@foresightcac.com | 705-725-2035
INVESTOR EVENTS
VANTEC Meeting Wednesday, October 6
Foresight Investor Readiness Workshop Thursday, October 7
Angel Forum from First Cheque to Exit Thursday, October 7
Keiretsu Forum Vancouver Chapter Meeting Tuesday, October 12
VANTEC Investing in Transformative Agrifood Tech to Combat Climate Change Wednesday, October 13
VEC: Angels for Climate Solutions Program Deadline: Wednesday, October 27
Angel Forum Community Meetup Thursday, October 28
Western Canada 5th Annual Agrifood Tech Investment Forum Wednesday, November 3
COMMUNITY EVENTS
21st Annual New Ventures BC Competition Awards Monday, October 1
entrepreneurship@UBC Immersion Week Monday-Friday, September 27-October 1
SFU VenturesLabs: Market Validation Training Tuesday, October 5
VEC: Angels for Climate Solutions Deadline: Wednesday, October 27
Interface Health Summit - Life: Restart Wednesday-Thursday, October 20-21
Company Presentations 4:15pm
Companies can apply to pitch here and are recommended to attend one or more of the pitch circuit events to practice their pitch. The presenting companies will be announced 2 weeks prior to the meeting.
UPDATES (90 seconds)
Origen Air | Clean Technology | Gust | Origen Air produces IoT-connected, plant-based air purifiers for commercial buildings.
ioAirFlow | Clean Technology | Gust | ioAirFlow helps energy auditors reduce their labour costs and generate better data analytics for commercial building efficiency and performance tests.
Breathe-Global Devices Ltd | Medical Devices and Equipment | Gust | VENTI is an IoT cuirass ventilator based on 100 years of proven tech, sold standalone and in kits worldwide to help millions of respiratory patients and those with COVID in hospital, assisted living, and at home.
PREVIEWS (90 seconds)
Autonopia | Robotics | Gust | Autonopia is a robot-as-a-service company automating repetitive work on tall structures which require scaffolding or rope/suspended access.
Hidden Bands | Media and Entertainment | Gust | Pokemon GO for music. We put bands on the map and reward users for finding and sharing exclusive new music.
Machinery Analytics | Software | Gust | Machinery Analytics offers a big data, deep learning platform which allows manufacturers of new hardware to get to market faster and control warranty costs.
RHT RailHaul Technologies Inc. | Transportation | Gust | Self-propelled electric freight rail cars to replace mine haul trucks.
FULL PRESENTATIONS (5 minutes)
Castofly Technologies Inc. | Software | Gust | A software platform for content creators to create and collaborate on board-centric videos.
Newsly | Mobile | Gust | Audio news and content aggregator mobile app. It picks up web articles about the most trending subjects on the web. It then reads the text in a human voice.
CamDo Solutions Inc. | Electronics / Instrumentation | Gust | Innovative camera hardware and software products helping General Contractors use visual data to improve Utilization, Margins, and Safety.
GeoGen Technologies Inc. | Clean Technology | Gust | GeoGen is a geothermal technology company facilitating the conversion of end of life oil and gas wells to geothermal baseload renewable electric power sources.
Investor Decks
The company presentations and investor packages, including more details on the team, financials and other documents are available to VANTEC members on the Gust platform. Email us at info@vantec.ca if you have any questions.
Founder & Investor Networking 5:30pm-6:00pm
General networking in the common room. Dedicated Q&A breakout rooms with full presentation founders, their investor sponsor and investors in 2 x 10-minute cycles, followed by 5-minute cycles of random founder & investor networking until the end of the VANTEC meeting.
NOTE: In our effort to share the pitches and presentations beyond our venue for a bigger impact we will record some of our events and make them available online.
By attending this event, you consent to the use of photography/video/audio in all forms of media, for any and all promotional purposes including advertising, display, audiovisual, exhibition or editorial use by VANTEC Angel Network without payment or other compensation.